Hotels should be a chance to escape and relax in a calm and clean environment. However, when you look below the surface, you may find that hotels are not all they seem to be. Hotels are full of interesting information, and these employees have told us some of their best-kept secrets that will make your jaw drop. You may want to rethink your next hotel stay after reading these secrets that hotels are hiding from you because they will completely shock you!
Housekeepers Sometimes Nap In Your Bed
As you leave the room and let the cleaning service in, you may wonder why they take so long to clean it. Well, you might be surprised to know that they sometimes nap in the beds. A 5-star hotel housekeeper shared her personal experience taking naps at work.
If the housekeepers are too tired and have some time to spare, they can lie down on your bed to sleep. If they have big suites to clean, they have more time reserved, so they use the extra time to sleep. What else are the housekeepers not telling us?
There may be a body under the bed.
While we've always thought that "the body under the bed" was an urban legend, there is some truth behind it. Although this is a rare occurrence, it may make you check your hotel room more carefully next time because some people found out that they were sharing a room with a dead body.
In Mexico City and Thailand, people complained of a foul odor in their room, and a body was found under the bed. While this is the worst-case scenario for a hotel stay, it's not impossible. Surprisingly, that doesn't stop people from staying at those hotels.
You May Want to Sanitize Your Remote Control
As you settle into your hotel room at night, you may want to watch some TV before bed. However, you should consider wrapping the hotel's remote control before touching it. The survey found that one of the dirtiest items in a hotel room is the TV remote.
After testing more than a dozen remote controls, they were found to have extremely high bacteria levels, including traces of E. coli and a dangerous bacteria that can cause skin infections. Apparently, the cleaning crew never touches the remotes, which makes us wonder what else they're not cleaning.
You Might Lose Your Room To Someone With Status
So you booked your hotel room months ago, paid in advance, and showed up only to be told you didn't have a room. Like airlines, hotels can overbook to minimize lost revenue from unsold rooms. They can even take you to another property so you can still stay in a hotel.
It all depends on whether you have a status at the hotel or not. Hotels never want to upset their loyal guests, so they will not touch their reservations. A one-night stay or a booking through a third-party website may take you to a second location if the hotel is overbooked.
You Can Cancel Your Stay Without Paying A Fee
If you've ever waited until the last minute to cancel a hotel stay, you know how irritating it is to be hit by the cancellation fee because you've waited too long. However, there is a trick to getting out of that fee, and we're surprised we didn't think about it.
If you have to cancel after the cancellation deadline, just call and change your hotel stay dates. The hotel will extend the cancellation period, and you have to call again and cancel the reservation altogether (at the date you were planning to). Hopefully, you will talk to a different employee from when you called before, but they will simply help you with this most of the time.
"Free" Breakfast Isn't Really Free.
Who doesn't like a free continental breakfast during their hotel stay? They've become so popular that hotels are really expanding their options, but have you ever wondered if breakfast is really free? Most of the time, the price of the meal is included in the room price.
In some cases, it may be cheaper to take the family to the local McDonalds because hotels like to hide the costs of "complimentary" coffee and pastries. If they were really free, there would be fewer waitressing jobs and more garbage with disposable plates, so they try harder, and you pay for it.
Housekeepers' Revenge on Guests
We can all admit that we have a hard time controlling our vindictive urges when people really piss us off, and housekeepers are just like us. Hotel maids have denounced colleagues for misconduct against rude guests in the past, and they were right.
An anonymous housekeeper confessed that one of her co-workers used a towel to dry the bathroom and then hung it back. It's better to be polite to people, especially when they have challenging jobs like hotel maids.
Bargain Hunters Have A Bargain Experience
While finding a better rate for a hotel room on a third-party website may be easier, you should be careful when booking your room. Booking on sites like Expedia can mean a less luxurious stay because some hotels offer those sites the least desirable rooms.
If the hotel assumes you're a price-driven customer who won't be loyal to their brand, they won't have much incentive to go further for you. Instead, try calling the hotel to ask if they match the rate you found online because they might give you a discount.
You Probably Shouldn't Drink Water From Hotel Glasses.
When you check-in to a hotel, the room always has those unique glasses in the bathroom. They may look shiny and clean at first glance, but there's more to it than meets the eye. According to hotel experts, housekeepers sometimes rinse them and dry them with the same towel they use to clean the bathroom.
In some hotels, maids use furniture grease on the cups because they feel pressured to make them look immaculate. If that doesn't make your stomach churn, get ready for what else is happening in your hotel room.
Restaurant Recommendations Are Not Impartial
The hotel concierge can be a valuable resource if you are unfamiliar with the area. However, if you are looking for an unbiased opinion for a restaurant, the concierge may not give you an honest answer because he has something to gain.
Concierges can receive a commission for each person they send to a particular restaurant. Therefore, you may not get an unbiased opinion. Although this usually only happens in mid-range hotels, not in top-tier locations, a good concierge will not send you to a bad place anyway.
You Can Get Some Fees Waived
Hotels love to add taxes whenever they can, and that can ruin the traveler's experience. These fees add significantly to the cost of the room, and you may not even notice they've been included in your bill. Sometimes the "extras" are actually basic amenities too.
Fortunately, you can get rid of some fees by asking politely. If you do not use all the amenities or the services are not working, the hotel may be willing to take them off your account. Being a member of the hotel's loyalty program also helps to negotiate charges.
All Rooms Are Not Created In The Same Way
Although the front desk staff swore that all king rooms are the same, they're lying. Some rooms are simply better than others, and if you ask politely, you can get one of the best rooms (if they aren't already fully booked).
There's always a corner room, a room with a bigger TV, and a bigger bathroom, but the staff will still charge the same price for the worst room because it's technically on the same level. If you give them a $20 bill, you can get an upgrade.
Hotel Staff Knows What You've Watched On Pay-Per-View.
While you might think what you do in your hotel room is a secret, the hotel staff knows a lot more than they let on. Although the days of relying on pay-per-view are over because of free WiFi, people still choose to order movies on TV, and hotel staff can tell you exactly what you've watched.
Most people don't realize how detailed pay-per-view systems are because employees can see what you've watched and for how long. In other words, don't try to say that you "accidentally" selected that suspicious adult movie.
The Team Can Identify A Cheat One Mile Away
Hotels are a hot spot for people who are having affairs and think the staff has no clue about it. If someone and their "wife" check-in on a Tuesday in the middle of the day, any attempt to be discreet could well go out the window.
While the staff doesn't care what you do in your personal life, it's useless to make up some stupid story about why you're paying cash several times a week in your hometown. But remember that the team is probably talking about this during their break time.
The Bed May Be Dirty
If you're germophobic, you should probably skip this one because the hotel may not wash all bedding between guests. Although sheets must be washed regularly, bedspreads, blankets, and pillowcases are rarely washed.
Some housekeepers said they wipe stains on sheets until they're less visible. If there are no visible stains, the bedspread might only be washed once a month. Also, if the sheets are not wrinkled and are unstained, staff will rarely change them. The maid smoothes them and rolls up the lint for a "fresh" look.
Touching The Minibar Might Cost You Lots
Even if you don't stay in hotels very often, most people know that taking anything out of the minibar will cost money. However, you may not know that even moving something could result in an extra charge to your account.
Many hotels have sensors in minibars that can detect when you move a bottle. Some unsuspecting guests who move the items may be charged even if they haven't consumed anything. Hotels will reverse charges if you don't eat or drink anything, but remember to check your account to avoid unexpected charges.
The Hotel Checks-in Before Check-in
One of the biggest secrets of luxury hotels is that they snoop on your social networks before you arrive. To ensure your guests have a stellar experience, they seek you out and create a profile before you check in. It's kind of scary, but you can get some unexpected perks.
For example, if you book a five-star hotel for the honeymoon, you might not mention the reason for the trip, but the staff member will see your wedding post on Instagram and compliment you accordingly. There may even be a bottle of champagne waiting in your room. They all want you to have a good time.
Hotels Ensure Bad Behavior Is Watched In Their System
Hotels aren't just tracking what you like and don't like; they also watch your bad behavior. If you are rude to a front desk clerk or destroy your room, it goes into your permanent hotel record, maintained by all hotel chains.
The hotel staff adds comments to your profile, and whenever you make a reservation, someone at the front desk will see how you behaved the last time you stayed there. Anyone who has access to the room program can see your entire history with that resort or hotel.
Hotel Deaths Are Not Rare
While finding a corpse under a bed is rare, deaths in hotel rooms are not that uncommon. Unfortunately, suicides, murders, assaults, and natural deaths occur on both high and low-cost properties, and the hotel tries to keep it as discreet as possible.
The hotel will do its best to clean up afterward, but that doesn't stop people from renting these rooms. If the death is well known, the hotel may go so far as to renumber rooms to discourage fans who want to see where a famous person spent their final moments.
The Bathroom Is Not Just For You
After housekeepers nap in your bed, they use the bathroom to cool off. A hotel maid confessed to a travel website that the cleaning staff occasionally uses guest bathrooms if they don't have time between rooms to go to the staff bathrooms.
This is more acceptable than having staff sleeping in your bed while you're out of the room. As long as they cleaned up afterward, no one would notice the difference. It's something they shouldn't do, but when you have to go, you have to go.
You Should Stay Away From Hotel Kettle
It may be another urban legend, but we're not willing to take the risk. Most hotel rooms come with an electric kettle, and there's a sickening rumor about what other guests use them for, which can cause you nausea.
Some people claim that guests use the kettles to wash their dirty underwear, and these things are rarely replaced or cleaned. We're not going to make tea with the germs of someone else's dirty underwear again. We hope it's just a rumor, though.
Someone Might Have Eaten Your Room Service
Have you ever ordered room service and thought, "Is that a small serving of French fries for $20?" Although the kitchen may have given you a decent portion, whoever brought the meal probably had a snack on the way to your room.
According to an article about hotel employees' confessions, a staff member wrote that they never bring or buy lunch because they eat off the plate before it reaches you. How much are they eating to be able to skip lunch?
The Maid's Equipment Is Not So Hygienic
If you thought your room was being squeaky clean, you might want to think again. Housekeepers use the same cloth they used for bathrooms and floors to clean the surfaces most of the time.
It's an unsanitary practice, and we're starting to realize how dirty hotel rooms really are. As well as dirty glasses, we advise you to avoid any of the dishes in the room and bring your own handkerchiefs to sanitize things.
Coffee Makers Are Disgusting
While it's cheaper to make a free cup of coffee in your room instead of finding a coffee shop or going to the hotel restaurant, you might want to spend a few more dollars. The University of Valencia tested several coffee makers in hotel rooms, and the results were shocking.
Researchers have found that most coffee makers in hotels are full of bacteria because they are rarely cleaned. It really makes you wonder what housekeepers are doing when they should be cleaning the rooms.
Staff Handling Your Baggage
Have you ever arrived at a hotel early and left your luggage with the staff while exploring the city before check-in time? You have to trust the staff to take care of your stuff, but it's not always easy to keep your mind clear.
According to a hotel employee, when you leave your luggage at the concierge desk, they keep it in a small room, not visible to guests. Usually, your baggage is handled in the worst possible way. If it's big enough, they sit on it, and if it's small, they play it like a toy.
Bedbugs Are More Common Than You Think
As we've already learned, hotels are full of germs, which means they're not protected from insect infestations. A 2018 survey found that the number of bed bug infestations is increasing in the US and is significantly higher than 15 years ago… gross.
Hotels and motels are among the top three places to find bed bugs that you then bring them home with. It's always good to be cautious, so check the corners of the mattress when you check in and hope for the best.
Toiletries Are For You To Take
While it may not seem obvious, hotels do want you to steal bathroom toiletries. Although they don't want you to start carrying towels, hairdryers, and kettles, half-empty shampoo bottles can't be of much use.
These tiny jars help make your stay more memorable and make you feel like you're getting the best price. Be careful because some hotels put electronic tags on some items to catch guests trying to steal extra items.
Hotel Alcohol Is Not What You Think It Is
If you've ever ordered a drink at a hotel, you know how overpriced they can be, but did you know it's not the same quality as you would get at a restaurant? The hotel staff knows how to trick people into making more money, and it's very sneaky.
Staff sometimes replace bottles of wine and, when they see a drunk guest, give him cheaper alcohol for the price of the most expensive kind. When there are unlimited drinks, they are almost always diluted.
If You Leave Something Behind, You Won't Get A Phone Call.
When checking out of a hotel room, be sure to double-check the entire room to ensure you have everything that came with you. If you leave something behind and don't bother the hotel with it, they won't call you to pick it up.
Not because they have an evil plan to guard your belongings, but because they never know when you can pick them up. If you leave your chargers behind, they usually keep them and lend them to other guests or staff.
Hotel Safes Are Not Infallible
When you go to a hotel, there's usually a safe in the closet to store your essentials that you don't want to carry. However, have you ever wondered how your belongings are actually protected? Even if you lock everything carefully, you are not the only person who has access to this safe.
Unfortunately for you, the team can log in and open it without your combination code. To keep your valuables safe, keep them locked in a suitcase, in a closet, or under your bed. At least they don't have these combinations, and you won't have to worry about your belongings.
There Is A Lot Of Politics Behind The Scenes
Although we can only assume things as hotel guests, we never really knew what was going on behind the scenes until now. Sometimes there are discussions between different departments, which can really affect your stay without you realizing it.
Sometimes when you're waiting for your room to be done, it's not because it's not clean yet. In fact, it could be because there's vengeance by the cleaning department against the front desk, and they refuse to release a room.
There's a Reason Check-in Takes So Long
Speaking of waiting for your room to be ready, there's actually a reason it takes so long to check-in to a hotel. When you go to the front desk to pick up your room key, there are about 26 steps to go through before you can go and relax.
Most steps involve recording information about you, including verifying your identity, eligibility for the rate you received, and selecting a room based on your request. This process may take longer if the cleaning department does not release the room.
Sometimes Hotels Get Lazy With Guest Eating Restrictions
If you have strict dietary restrictions, you might want to look away now. In some hotels, there can be a lazy attitude to fulfilling people's requests. For example, some of the foods labeled vegetarian are not actually vegetarian.
Foods labeled as a vegetarian can be prepared with chicken or veal broth, and the same utensils are used for everything. They may also not notice if a piece of meat entered your plate while it was being cooked. We think you should be very specific with your dietary guidelines.
If You're Messy, It Can Affect Housekeeper's Salary
You've already left your room wrecked and thought, "the maids will take care of this." We hope that's not the case, but leaving a big mess affects housekeepers more than having to do extra work; it also affects their salary.
Many hotel maids are paid for the room they clean, so if you keep everything tidy, they will have more time to clean more rooms. The messier the room, the more time the housekeeper has to spend cleaning it, and then they earn less for not cleaning more rooms.
"Do Not Disturb" Signs Are Ignored
We all use the "do not disturb" signs in the hotel room for various reasons. However, we should all be careful because most hotel maids ignore the doorknob signal, so they don't have to come back later to clean or change towels.
Sometimes people leave the sign on the door even after leaving the hotel, which takes valuable time away from the maids trying to do their job. If you really don't need the sign on the door, be sure to take it off.
If You Need Something, Order Before 5:30 pm
This is not a big secret, but it will make your life easier when staying in a hotel. Most hotel maids leave at 5:30 pm, so if you want to request something from housekeeping, do it before they leave. It will get to you much faster than after hours.
If you need an extra towel or some hygiene products are missing, they will be in better condition the sooner you ask for them. If you order something after the maids have left, it will probably take longer to reach you, or it will not be available.
Maids May Lose Their VIP Rooms For Violating The Rules
Ever wonder what it was like to clean a celebrity's hotel room? If a VIP is staying at the hotel, some maids may not be allowed to clean their room because they have been removed from the VIP room list for breaking the rules.
If a housekeeper is caught trying on their clothes or taking a stand against the annoying guest, they will lose their VIP room list. They may also receive less and might have to clean less desirable rooms.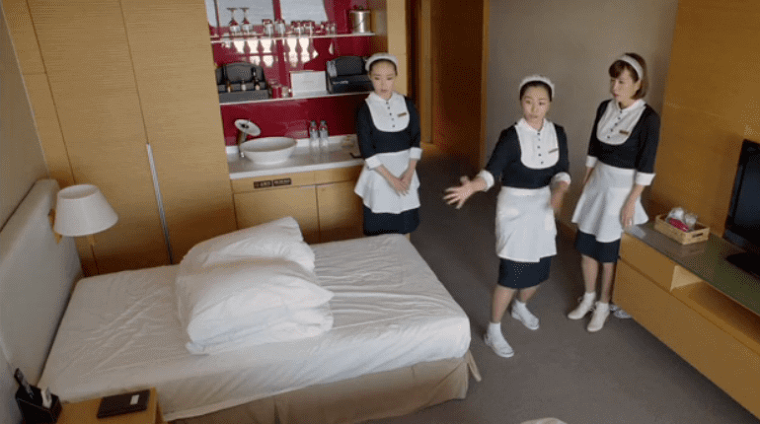 Bathtubs are never scrubbed.
If you've ever thought about taking a relaxing bath in your hotel room, stop and think again. Housekeepers don't have much time to go through every room, which means things won't be as pristine as you'd like.
When they finally make it to the bathroom, they just run the tap to rinse instead of scrubbing the tub. So next time you walk into your hotel room, make sure the bathtub smells of bleach or cleaner before using it.
You Can Get A Discount If You Claim For It
If you've ever complained at a hotel, you may be on the right track. Hotel staff admitted that complaining is generally the best way to go if you want a discount on your room rate. Also, the older you are, the less they will question your claims.
If you complain about your rate, you can probably get a 10% discount because they want to sell the rooms instead of leaving them empty. You just need to know how to haggle, and you will likely get your rate reduced.
A Five Star Hotel Doesn't Mean You'll Get a Clean Room.
When you pay for a five-star hotel, you probably expect to stay in the most luxurious hotel you could imagine. These hotels are almost expected to have a higher standard of hygiene, but this is not always the case.
A study by a travel website found that 3-star hotels were much cleaner than four- and five-star hotels. For the price you pay for these "luxury" hotels, you would think it would be the best experience with the cleanest conditions, right?
Housekeepers Can Touch Your Stuff
In case you have any suspicions, hotel maids occasionally like to poke around in your room when they should be cleaning. With long and somewhat tedious days, they find it fun to see what you have been doing in your room.
They also find it interesting to look at your belongings to guess what kind of person you are. To be fair, if we were housekeepers, we would probably have the same curiosities while cleaning up a messy room. There has to be something to pass the time.
Hotel Staff Can Get Lazy And Lie To You
Have you ever called a hotel to make a reservation and were told they were all fully booked or they couldn't accommodate you? Well, you may have been lied to because the front desk clerk was too lazy to look at the computer and help you.
Some front desk staff doesn't bother going any further. One even confessed that when people call the hotel to ask if they have an open reservation, they just say no because they are too lazy to go through.