COLFAX — Abi Rawlins and Joslyn Chadwick took the first pitches they saw and drove them into the outfield. Caylee Cunningham followed with a two-run double that hit the outfield fence in the air.
It was the start of a big night at the plate for Colfax-Mingo's softball team on Wednesday.
The Tigerhawks plated four runs each in the first two innings and then added three more in the fourth to down Iowa Valley 11-0 in five innings during South Iowa Cedar League action.
It was a welcomed sight after not scoring a single run in a 12-inning loss to Sigourney two days earlier.
"Coming off a Sigourney pitcher, I was just ready to hit the ball," Cunningham said. "We didn't hit the ball well that night. We were all just ready to go today."
Cunningham, Rawlins and Chadwick each had three hits at the dish. The Tigerhawks cranked out 14 hits in all and Kylie Doty limited the Tigers to three hits from the circle.
In the first inning, Cunningham's two-run double made it 2-0 and then Charlotte Donahue came through with an RBI ground out. Devan Chadwick extended the lead to 4-0 with an RBI single.
The four-run second frame started with a Trinity Smith single. Rawlins registered an RBI single and another single by Joslyn Chadwick put two runners on again in front of Cunningham.
She gave her team the same result as her two-run double to the fence pushed the margin to 7-0 and Donahue's two-out RBI single widened the gap to 8-0.
"I think it was good to get off to a fast start," Rawlins said. "I think when one person got on, we fed off each other and just kept it rolling."
Cunningham led off the fourth with a double that found a hole down the line in left field. Madison Stackhouse and Devan Chadwick each walked and then Holland Robinette delivered a two-run single. Rawlins' RBI single with two outs ballooned the lead to 11-0.
The Tigerhawks (7-3 overall, 6-1 in the SICL) had plenty of success attacking the first pitch. That's not a philosophy of the team necessarily but if it's there, it could be the best pitch the players see during an at-bat.
"It's better to hit that first pitch if it's there then getting down in the count," Joslyn Chadwick said. "You are likely to have a better at-bat if you do that."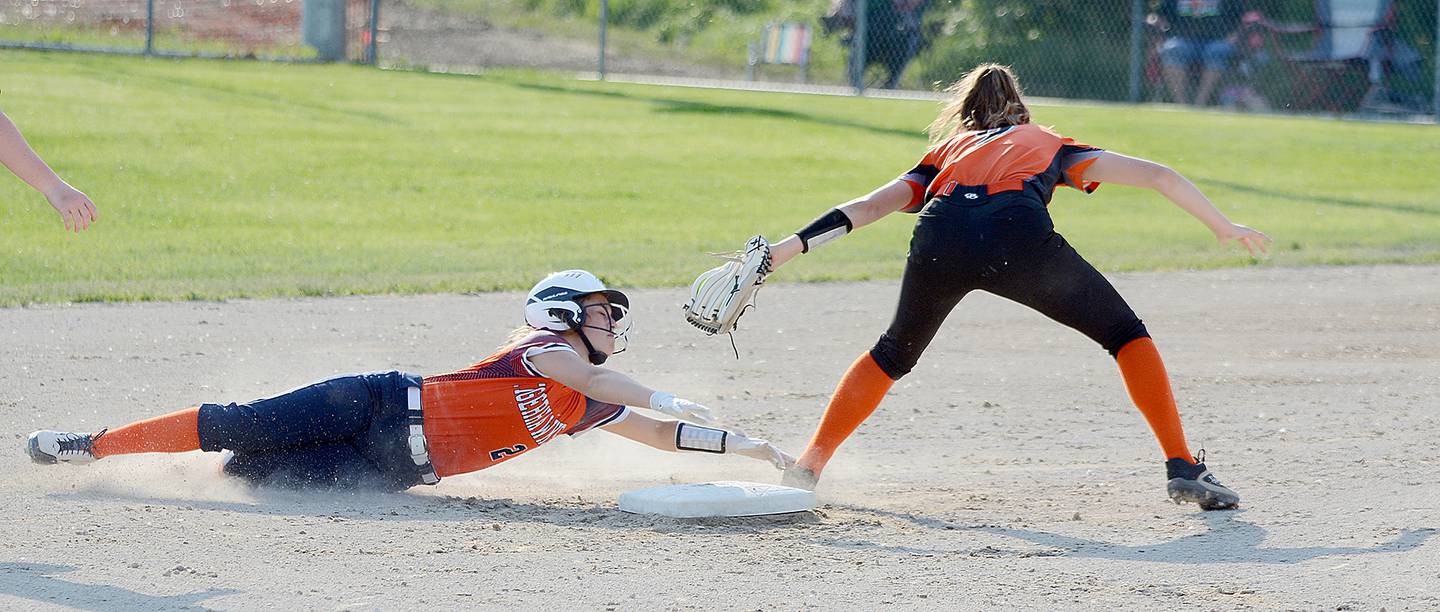 Poulter said the coaching staff's message to all of the players is to just be up in the count.
"Whether it's zero strikes, one strike or two strikes, stay on your swing and don't chase pitches," Poulter said. That's what we tell them. It was a pitch they were looking for and they were able to drive it.
"We saw them square up and get some nice, hard hits. It's been a little bit since we've seen that from some of them. They fed off that."
Doty (7-3) was perfect in the circle through three. She allowed three hits total and struck out four in her five innings of work.
She won't pitch when she goes off to Upper Iowa University this fall, but Poulter needs his best player to also be the best pitcher she can be this season.
"That was my preseason speech to her," Poulter said. "In a few weeks, when she goes on to the next level, she won't pitch. But for now, we need her to be the best pitcher she can be. She's grown into that mindset. She's learning how to work batters better, she's getting ahead in the counts and she's getting batters to swing at bad pitches."
Cunningham tallied three doubles, three runs and four RBIs. And she made an impressive throw to home plate from center field to keep Iowa Valley (3-10, 1-7) off the scoreboard in the top of the fourth.
"I think it was great for her. She needed a reminder about how good her arm is," Poulter said. "She has elite skills. We are starting to see them. Her arm was great and her range in the outfield was awesome, too."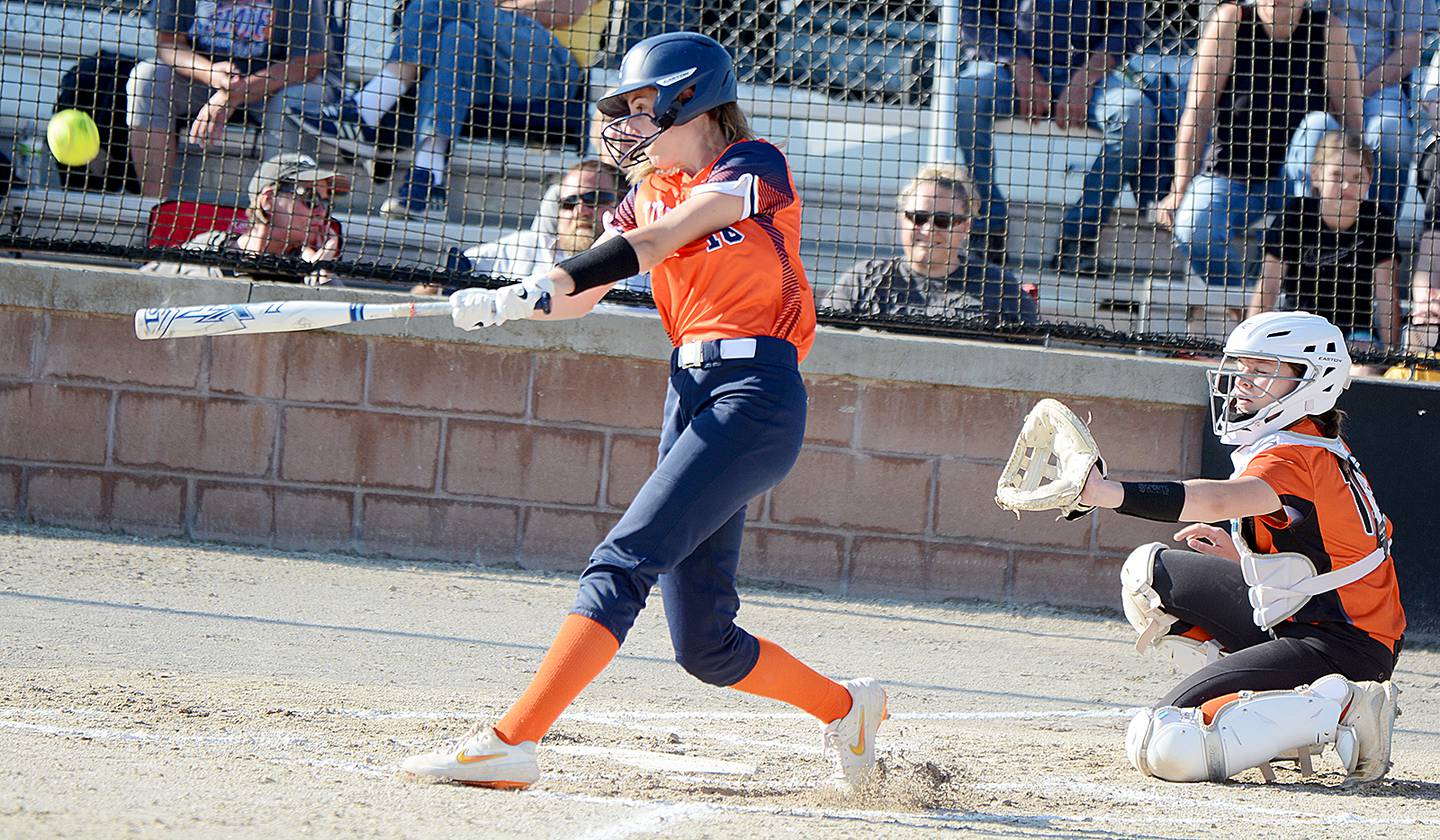 Rawlins added two runs and two RBIs to her three hits and Joslyn Chadwick scored two runs.
Devan Chadwick finished with two hits, one run, one RBI and one walk, Donahue and Robinette each had one hit and two RBIs and Stackhouse walked twice and scored one run.
Smith had one hit and one run and Lily Webster scored one run.
Colfax-Mingo 18, Keota 0, 4 innings
KEOTA — Doty tossed a four-inning shutout in the circle and had a big night at the plate during Colfax-Mingo's 18-0 win over Keota on Friday in SICL play.
The Tigerhawks led 5-0 after one and scored three in the second, three in the third and seven in the fourth to end the game early.
In the circle, Doty tossed four innings and allowed no runs on two hits while striking out seven and walking zero.
Doty also had two hits, three runs, three RBIs and was hit by a pitch at the plate. One of her hits was a double.
Cunningham and Robinette also had two hits apiece. Cunningham added three runs, two RBIs and one steal and Robinette laced two doubles, scored one run and had three RBIs.
Rawlins registered one hit, two walks, one RBI, three steals and four runs, Stackhouse added one hit, two RBIs, one walk and two steals and Joslyn Chadwick tallied one hit and two runs and was hit by one pitch.
Donahue finished with one hit, one run, one RBI and one stolen base, Smith had one hit, one run and one RBI and Devan Chadwick collected one hit and one run. Emma Cook scored one run.
Keota (0-10, 0-9) had more errors (5) than hits (2) in the loss. The Tigerhawks scored 18 runs on 12 hits.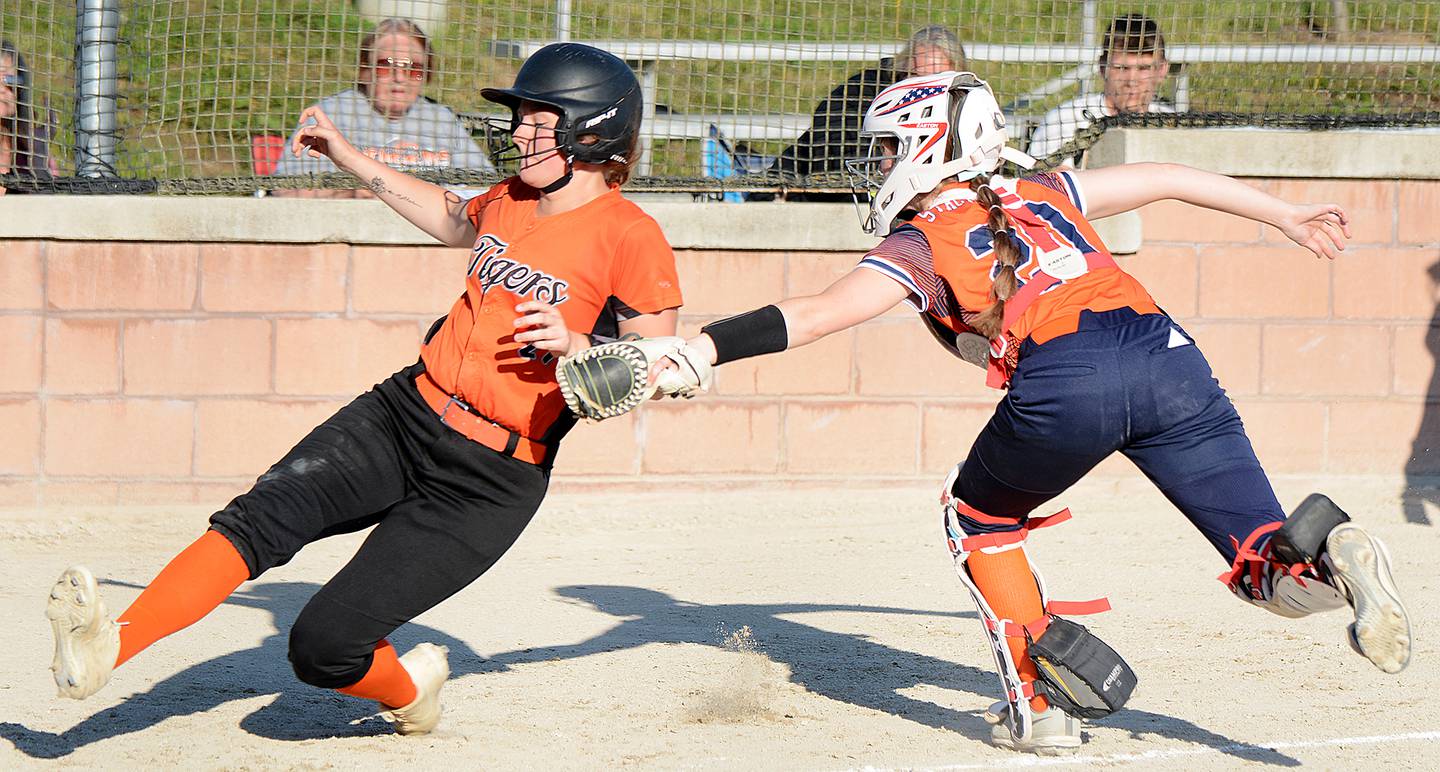 Sigourney 1, Colfax-Mingo 0, 12 innings
SIGOURNEY — The Tigerhawks managed just two hits over 12 innings but held Class 1A No. 10 Sigourney scoreless through 11.
Unfortunately, Josephine Moore's walk-off solo homer in the 12th sent the Savages home with a 1-0 victory on Monday during SICL play.
Rawlins and Donahue had C-M's two hits.
Carley Underwood was hit by a pitch and stole two bases before injuring her knee in the 10th inning. She's out indefinitely as she awaits results from an MRI.
"It was wet conditions and the field was sticky," Poulter said. "Her leg got stuck. It's a sucky deal because she's worked so hard."
Doty took the loss in the circle for the Tigerhawks. She allowed one earned run on six hits with six strikeouts and one walk in 11 innings.
Carly Goodwin tossed all 12 innings and allowed two hits and hit one batter while striking out 25. She also led Sigourney (8-3, 7-1) at the plate with two hits.