The Mississippi Gulf Coast is a very special place to me. It is in my home state and where I have made so many wonderful memories over the years. I even went on my first family vacation there!
Many people don't seem to know much about this deep south gem. This "Secret Coast" has amazing natural beauty and, quite frankly, is the perfect year-round destination. There is an incredible amount to do, see, and experience along the entire Mississippi coast, from outdoor activities like kayaking, boating, fishing, and hiking to a variety of attractions, museums, festivals, world-class games, and championship golf courses. And when it comes to food this is one of my favorite places! Here you will eat the best and freshest seafood in the world!
There are 62 miles of scenic coastline that offers an array of unique, breathtaking natural landscapes, and the opportunities for exploration and outdoor activities are endless. If you want to experience something different, take the Biloxi Shrimping Trip, which takes you into the spectacular world of marine life – caught on a real shrimp expedition. We learned so much about catching, cooking, and eating this delicious southern delicacy in the Mississippi Gulf Coast style. It's a fun and educational trip that has entertained visitors worldwide since 1954. This is a living marine adventure cruise.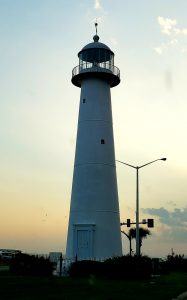 Another epic boat trip is a ship island excursion. This has been a staple in Gulfport for 95 years! Everything here revolves around relaxation, recreation and history. It's an affordable, family-friendly adventure and one of the most popular outdoor attractions on the Secret Coast. There are many cruise options and times. One of my favorite cruises for the day is to Ship Island, where these barrier islands have white sand and beautiful blue water. On this trip we did the dolphin cruise and saw many bottlenose dolphins. One day I would also like to try the Sunset and Cocktail Cruise.
From the fascinating cultural and community landscape of the region to its rich maritime heritage and vibrant arts scene, The Secret Coast is home to a variety of museums and galleries. I have two favorites: First is the Walter Anderson Museum of Art, which is located in historic Ocean Springs. This fabulous museum is dedicated to the preservation and celebration of the artist-philosopher Walter Anderson. This is a nationally recognized fine arts museum and is home to Walter Anderson's paintings, drawings, murals, block prints, sculptures, carvings, and writings of coastal plants, animals, and landscapes. The museum even has a secret room owned by Anderson, which was discovered after his death. This artist has a very unusual and fascinating life story!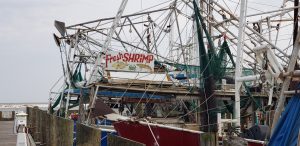 My other favorite is the Maritime & Seafood Industry Museum. This was established to preserve and interpret the maritime history and heritage of Biloxi and the Mississippi Gulf Coast. It accomplishes this mission through a series of exhibits on shrimp, oyster fishing, recreational fishing, wetlands, marine resource management, charter boats, ship smiths, wooden boat building, net making, catboats / biloxi skiffs, shrimp peeling machines and numerous historical photographs and objects. It's really educational, interesting, and shows how the fishing industry built Biloxi.
The Secret Coast also offers a wealth of exciting and unique experiences for visitors of all ages. From water parks to coastal fun on the beaches or hands-on educational attractions.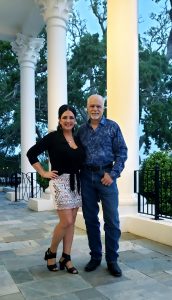 For example, the new Mississippi Aquarium, which opened in Gulfport just last year, is a must see. It has both indoor and outdoor habitats with more than 200 species of animals and 50 species of native plants. You do a great job telling the incredible story of all of Mississippi's aquatic resources from delta to coast and the remarkable connection that uniquely connects all of the state's natural resources. The aquarium offers plenty of opportunities for visitors to entertain themselves and fully immerse themselves in the aquatic wonders that Mississippi has to offer.
Now my favorite – the culinary scene. This fabulous foodie industry on the coast is booming and offers a wide variety of gastronomic delights. From rustic, entertaining fish restaurants with fresh seafood from the Gulf with a view to sustainable gourmet cuisine and fusion cuisine, there is something for every taste and budget.
I have so many favorite restaurants here, but one that is very iconic is Mary Mahoney's. I have eaten here with my family since I was a little girl. Here you can enjoy an elegant meal in one of the most unique restaurants in the South, centered around one of America's oldest houses. Dine under a century-old oak canopy in an elegant New Orleans-style courtyard where presidents, dignitaries, celebrities and millions of others have lived the rich history and legendary cuisine of Mary Mahoney's for 50 years. Much care has been taken to preserve the charm and character of this landmark with its exposed brick walls, pine floors and open fireplaces. Here you can enjoy excellent food and drinks in an atmosphere steeped in history. This 1737 Old French restaurant is one of the best in the Deep South!
And do you know that after a great dinner there is always something to do here. Soak up the atmosphere in one of the city center's charming, pedestrian-friendly neighborhoods that offer vibrant nightlife and first-class live music in popular coastal locations. My favorite place to be is listening to live music at the Mosaic in downtown Ocean Springs. Or enjoy an exciting evening on a much larger scale at one of the 12 world-class casino resorts that offer headline entertainment! There are always plenty of exciting places to be entertaining and going out.
In fact, be sure to check out the monthly festivals and events held year round on the Secret Coast showcasing local handicrafts, handicrafts, delicacies, seafood and talented musicians. One of the most popular annual festivals is the Anderson Arts and Craft's Festival, the state's largest fine arts festival. Another fun event is Crusin 'the Coast, which sees more than 8,000 vintage cars drive the streets of the Gulf Coast!
Well, I think Mississippi's Secret Coast is well known and it has it all: great food, great activities, great attractions, and great people – they have it all. You should plan to spend some time here … I really can't wait to go back!
Follow Terri on Facebook; Instagram; Trip advisor; YouTube: @travelwithterri